Announcements
Elect your 2020-2021 Student Senate President & VP!
March 27, 2020
It's time to elect a Student Senate President and Vice-President for next year!
Click here to access the Election Form.
The election is open now through next Tuesday, March 31 evening. All undergraduate students at Heidelberg are eligible to cast a vote. Similar to a national election, you'll cast a single vote for a President and Vice-President ticket. The two tickets are listed below (in alphabetical order).
Tess Connors (President) and Em Swain (Vice-President)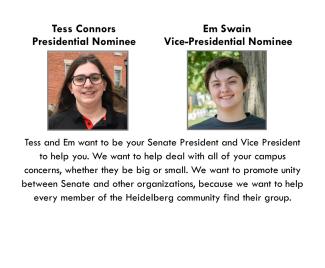 OR
JT Vaughan (President) and Taylor Wietrzykowski (Vice-President)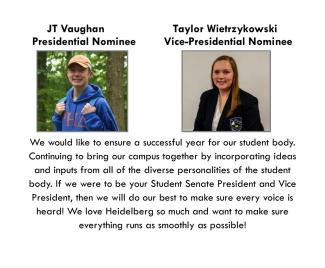 If you have any questions about the election, or would like to learn more about Senate, contact current Senate President Hannah Petitti at hpetitti@heidelberg.edu.
Latest News & Announcements