On MLK Jr. Day, 'Berg service gets huge gift to grow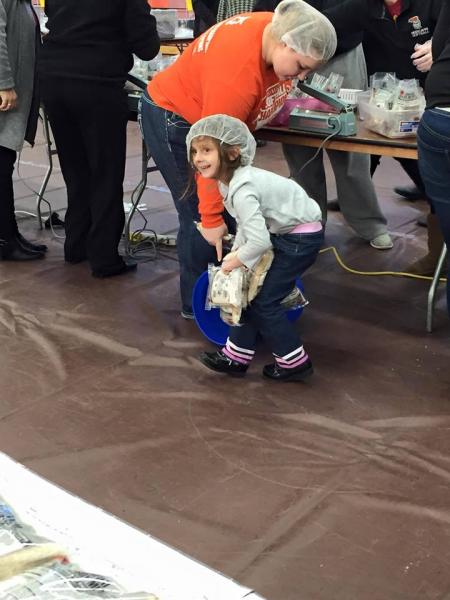 'Berg students, faculty and staff are engaged in service year-round, but the annual Martin Luther King Jr. Day observance sets the stage as the premier service event on campus, bringing together the campus and local communities to celebrate the legacy of the late civil rights leader.
On Jan. 19, service and civic engagement got a big boost when President Rob Huntington announced during the celebration that Heidelberg has received an anonymous $250,000 gift to support student community service.
The endowment for service is part of the $75 million Academic Comprehensive Campaign for Excellence and has been fully funded by the donor, Rob said.
The great news is exciting for Chaplain Paul Sittason Stark. "What I'd like to do is get students, faculty and staff together to do a little dreaming so that we have a plan in place to use these funds in the best possible way," Paul said.
The ultimate goal is to involve more people in service and civic engagement through meaningful programming, opportunities to serve and celebrating our success, he added.
It was fitting that the announcement came during Heidelberg's annual King Day. Billed as a Day of Service and Conversation, the afternoon started with a strong message from Kimberly Brazwell, special assistant to the president for diversity initiatives at Columbus State Community College, who challenged those in attendance to think about what motivates them to serve. She emphasized ways in which individuals can serve better by embracing differences and diversity.
About 60 people – including a number from the local community -- joined in meaningful conversation around Brazwell's message, and then participated in a service fair. A total of 11 local organizations were on hand to share their mission and welcome new volunteers.
The culminating event drew about 100 people of all ages, who came together to prepare 10,352 meals – surpassing last year's total – through the Stop Hunger Now organization. Each meal of rice, soy protein, dehydrated vegetables and a vitamin packet serves 6 people. The meals are bound for refugee centers, schools and crisis relief operations around the world. Last year, the meals built at Heidelberg were shipped to Malawi.
"It was neat to see everyone working together with such a great spirit," Paul said.
The previous evening, members of the Heidelberg community participated in the Community Celebration for Martin Luther King Jr. Day at Faith United Methodist Church. 'Berg senior Bryan Lacey served as co-emcee, along with Malcolm Phillips from Tiffin University. The keynote speaker was author, educator and historian Larry Hamilton, who addressed Healing through an Inclusive Heritage.
Also highlighting the program was presentation of the Martin Luther King Jr. Peacemaker Award, presented to the FISH Food Pantry, and the readings of children's essays about what King's legacy means to them.
Representing Heidelberg on the planning committee for the local observance are Paul Stark and retirees Dr. Ruth Wahlstrom and Nancy Rubenstein.
Pictured: Madeline Zeno, Mark's daughter, was one of the youngest volunteers who helped to pack meals for Stop Hunger Now.
January 27, 2016
Latest News & Announcements