Newly naturalized citizens embrace U.S. ideals, opportunity
---
"We the people" grew on Wednesday when 50 individuals from 25 countries were sworn in as new U.S. citizens by Judge Jack Zouhary of the U.S. District Court for the Northern District of Ohio, Western Division.
The naturalization ceremony took place in Heidelberg's Wickham Great Hall – the first time the University has served as a host. It was coordinated on campus by Ashley Helmstetter, assistant vice president of University Advancement and Alumni Affairs and HYPE Career Ready®, and featured strong representation by Heidelberg students and staff.
"The event was more meaningful than I ever imagined," Ashley said. "Never having witnessed a naturalization ceremony in my almost 40 years of life, I thought, 'What an impact this could make for our students in their younger years, to really understand what our country offers from a completely different perspective.'"
President Rob Huntington, who offered a welcome, said, "It's great to bring this ceremony to Heidelberg. It's a huge honor for us." Rob appreciated the symbolism of coming together as one United States of America. 
"It's great that all of you decided to become citizens of the greatest country on Earth," he told the honorees. He also shared a bit of history about Heidelberg, which was formed by immigrants, and his own personal family history of bringing home his son, Aidan, whom he and his wife, Susan McCafferty, adopted from Russia nearly 21 years ago. Twenty years ago, the family went through the naturalization process for Aidan. "That is a day we will always cherish," Rob shared.
Appreciating opportunity
In his remarks after administering the Oath of Citizenship, Judge Zouhary confirmed this ideal, telling the newest citizens, "Whatever our place in society, we belong to and believe in a place of extraordinary opportunities and possibilities where miracles happen."
Perhaps the most impactful moments were hearing individual stories shared by four of the newly naturalized citizens, who spoke emotionally about their personal journeys to reach this day. Without hesitation, they spoke about opportunity.
One woman, a preschool teacher who came to the U.S. from Syria, spoke about the challenges of arriving in the U.S. about five years ago, and how she is now unable to return to her homeland. "This is my home now, proudly," she said. Her goal: "to leave my print, give help and love and respect and be a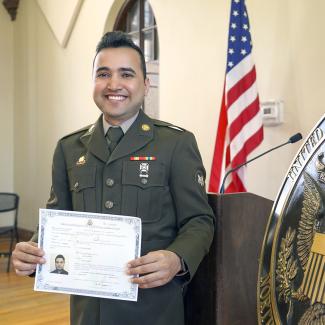 really successful woman in the USA.
"I'm proud of each one of us. This is awesome!"
Another gentleman arrived in the U.S. in 2015 as an international student, intent on "grabbing more opportunities and having more constitutional rights." Joined in the U.S. by his parents and spouse, he enlisted in the U.S. military for the opportunity to serve his new country.
These stories struck Ashley in a profound way.
"When you hear these stories, you begin to understand how life-changing this is for them … that this really is the land of opportunity," she said.
Keynote: 'I am like you'
The keynote speech was delivered by Hoa Nguyen, Heidelberg's vice president for Administration and Business Affairs, himself a naturalized citizen from Vietnam, arriving in the U.S. as a refugee in 1975, just after the fall of Saigon.
"I am like you. … I did not speak the language (when I arrived)," Hoa said. "Life was full of challenges and I took every one of them seriously. But it was also full of opportunities."
Hoa and the immigrants who have come before set their sights on turning those opportunities into the American dream. "As immigrants, we have made our marks on this great country, and that is how the United States of America – our nation – is enriched," he said. 
Expressing his pride for the new citizens, Hoa added, "We as American citizens have the shared responsibility to preserve and protect our freedoms, equality and justice for all."
Judge Zouhary shared some final words of encouragement for the now-naturalized citizens: "I encourage you to embrace the democratic ideals of America while sharing your culture, your customs, and equally important, your food."
Special thanks
In addition to Ashley, Rob and Hoa, Heidelberg was well-represented at the ceremony. Sophomore Olivia Huffman delivered the official Opening and Closing of the Court. Senior Daniel Orozco, who hails from Bogota, Colombia, read a poem, The New Colossus, written by Emma Lazarus in 1883 and cast onto a bronze plaque inside the Statue of Liberty's pedestal. 'Berg sophomore Siera Octaviano led The Pledge of Allegiance, which was the new citizens' first official act after taking their oath.
Finally, the Chamber Singers, under the direction of Dr. Greg Ramsdell, beautifully performed The National Anthem and America the Beautiful.
While Wednesday's ceremony was a first for Heidelberg, Ashley hopes it won't be the last. "My hope is that Heidelberg will forever be in the rotation for future ceremonies," she said.
March 15, 2023
Latest News & Announcements