NCWQR director testifies before House committee
Dr. Laura Johnson explained the lab's programs, funding and contributions to the research of water quality issues.
Dr. Laura Johnson, director of the National Center for Water Quality Research, was among a group of educators and scientists who testified on Monday before the House Finance Subcommittee on Agriculture, Development and Natural Resources in Columbus.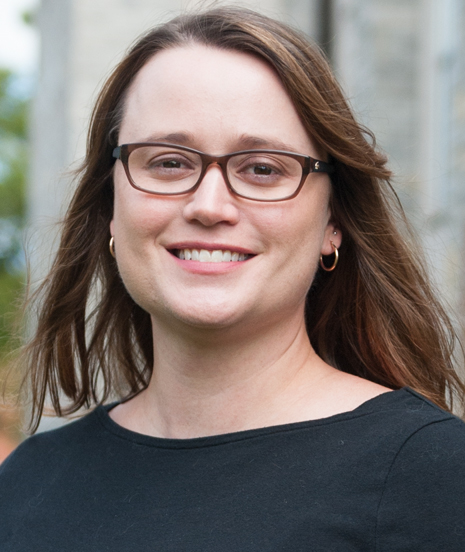 The hearing focused on the important research and collaborations that are taking place on harmful algal blooms and water quality in Ohio. Also testifying were Tim Davis, associate professor at Bowling Green State University and director of the newly funded Center for Great Lakes, and Tom Bridgeman, director of the University of Toledo Lake Erie Center (pictured with Laura at the Statehouse).
In her testimony, Laura briefly described the lab's long-term water quality monitoring program on the Maumee and Sandusky rivers. Currently, the lab monitors 25 locations, covering a wide range of land uses and watershed sizes.
In 2015, when Lake Erie experienced the severe algal bloom that threatened the Toledo water supply, the lab was a key player in providing expertise and data to help understand the issue. According to Laura, lab data indicates that the increase in dissolved phosphorus from the Maumee River since the mid-1990s corresponds to the return of harmful algal blooms in western Lake Erie that started in the early 2000s.
The lab frequently shares its data, Laura said, and contributes to the Lake Erie HAB (harmful algal bloom) forecast and bulletin. The bulletin relies on the lab's data linking spring phosphorus loads from the Maumee River to bloom size in Lake Erie.
Laura highlighted the research of colleague Dr. Rem Confesor, who uses watershed and field-scale models to assess best management practice (BMP) effectiveness.
"One major finding is that BMP implementation will have to be tackled on a field-by-field basis, and in doing so, field-scale models indicate we can reach needed phosphorus reductions but only when using multiple BMPs, such as subsurface and reduced phosphorus fertilizer application, cover crops and no-till agriculture," Laura said.
Additionally, climate change will increase the chance of a severe bloom like the one seen in 2015, but BMPs are predicted to mediate those effects. "However, this also means we'll need even more BMP implementation to maintain reductions achieved under current climate conditions," she said.
April 11, 2019
Latest News & Announcements