Greek Life selects 2020 Man, Woman of the Year
Greek Life had made two big announcements this week – the recipients of its Greek Woman of the Year and Greek Man of the Year.
Congratulations to 2020 Greek Woman of the Year Megan Gwirtz of Delta Sigma Chi. Megan also was a corollary member for Rho Eta Delta. She is a senior music major from Crestline, Ohio. She had this to say about her Greek Life experience:
"Greek Life has been a huge part of my four years at Heidelberg and I am so blessed and honored to be voted Greek Woman of the Year! It is amazing to see all of the time and support I have put into the Delts, Rhos, and all of my friends in other Greek families get recognized. I always feel the love and support of our Greek family in everything I do and I hope it continues for years to come! Always be there for each other and support each other... it goes a long way! ☺️💙 All my love, Megan"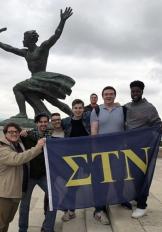 Congratulations also go to the 2020 Greek Man of the Year, senior student-athlete and music major Marques Johnson of Sigma Tau Nu. Marques, who resides in Belleville, Michigan, was honored when he heard of the news. He even wanted to express his gratitude by saying, "I'm honored to be chosen as this year's Greek Life Man of the Year!"
Marques and Megan, thank you for representing Greek Life so well throughout your time at Heidelberg University. We want to wish you both the best of luck in the future!
May 5, 2020
Latest News & Announcements