FACULTY PURSUITS: Week of May 23, 2022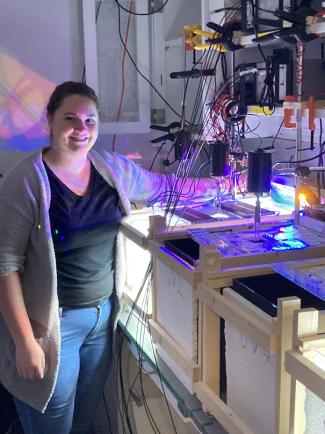 Dr. Justin Pruneski (Biology) attended the HITS Conference at the University of North Carolina Chapel Hill from May 23-26.  HITS (High-throughput Discovery Science and Inquiry-based Case Studies for Today's Students) is a National Science Foundation-funded group of researchers and educators working to build case studies and other educational materials to introduce students to modern research methods and data analyses. As a HITS Fellow, Justin is collaborating with other Fellows to develop case studies related to antibiotic resistance. 
While attending, Justin had the opportunity to meet up with alumna Melanie Cohn, a '19 'Berg grad in Biochemistry and Environmental Science. Melanie is earning her Ph.D. in Marine Microbiology at the University of North Carolina Chapel Hill. Her research uses a variety of field biology, chemistry, microbiology, and bioinformatic approaches to understand microbial utilization and transformation of carbon and other nutrients in coastal environments. You can read more about some of Melanie's work here.
Dr. Doug Kane (Ecology) participated in a Science Saturdays session at Kelleys Island State Park on May 28. Doug presented a session on plankton. 
May 26, 2022
Latest News & Announcements