Easing a burden: First Lady's gift to assist future law school students
Susan McCafferty recalls her Harvard Law School days when finances were so tight that she kept a hot plate in her dorm room and used it to cook spaghetti-o's and hot dogs for dinner on more than one occasion.
"It was very expensive," she recalls. "My first year, I paid my entire tuition, room and board from my earnings as a waitress. … Yet, money was very tight."
In succeeding years, she filled the financial gaps by working as a law intern and a summer intern. During her third year, she served as a house director at a freshman dormitory in Harvard Yard, which helped with room and board. Like so many students, she took out loans for tuition and her family contributed what they could.
Yet, finances always loomed in her mind. Today, after serving as Heidelberg's First Lady for the past 12 years and carving a niche on campus as a professor, advisor and organizer, Susan wants to ease the debt burden for future Heidelberg students who are pursuing a law degree.
On Friday (June 11), Heidelberg became the grateful recipient of The Susan M. McCafferty Law School Award, a new financial award that will be given to high-achieving, law school-bound students. The cash gift surpasses $100,000 and has already been added to Heidelberg's growing Endowment.
This gift will not only aid future law students; it also is an expression of Susan's deep, abiding love for Heidelberg and its students that has grown since she and her family arrived on campus and in Tiffin in 2009.
"In our years here, we have really come to love Heidelberg, and wanted to do something for students so they would have to worry about money a little bit less and focus on their studies instead," Susan says. "I have often thought back to law school and how difficult it was financially, and we hope our gift makes an impact even if in a small way."
At Heidelberg, Susan has taught "Strategies in Negotiation" in the Honors Program for 11 years. She also serves as the pre-law advisor and organizes annual Constitution Day activities on campus, including Court on Campus. Additionally, she serves as the chair of The Patricia Adams Lecture Series Selection Committee.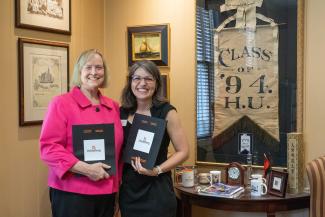 Ashley Helmstetter, executive director of Alumni Engagement and Major Gifts, and Susan have partnered on other major projects such as the PALS Selection Committee. The two teamed up again to draft the gift agreement. "Working with Susan on this gift truly was a meaningful experience and my sincere pleasure," Ashley says. "I look forward to witnessing the impact the award will have on our future alumni who I'm certain will excel in the legal profession,"
Phil Ness, vice president for University Advancement and Alumni Affairs, says the gift is not only inspirational but meets an important need at Heidelberg.
"This is a great example of a very thoughtful gift," Phil says. "Since arriving on campus 12 years ago, Susan and Rob have displayed unparalleled commitment to student support and success. They have lived that commitment in their roles as President and First Lady.
"This wonderful gift ensures that legacy of support and inspiration will become even more ingrained into the Heidelberg culture."
Eligible students will be seniors who demonstrate academic excellence, have a minimum 3.5 GPA and evidence of leadership. They will need to graduate from Heidelberg and be accepted into law school. Susan believes the gift has great potential to motivate students to excel academically and graduate in four years, on the path to beginning their law school journey.
"In addition to the impact of Susan's award on Heidelberg students now and going forward," Rob says, "I sincerely hope that our family gift inspires 199 more endowed gifts to add $20 million in student scholarships in perpetuity to our Endowment."
June 13, 2021
Latest News & Announcements