Lessons in Leadership: The art of creating culture of love in workplaces
Put love to work.
Four simple words not easily achieved, especially in the workplace. But the four co-authors of the Wall Street Journal best-seller Love as a Business Strategy: Resilience, Belonging & Success seem to have found the secret formula.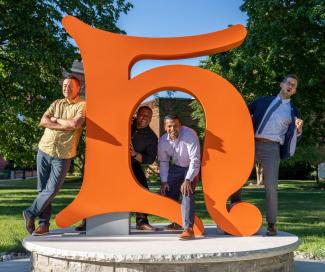 The authors – Mohammad Anwar, Christopher Pitre, Jeffrey Ma and Frank Danna – traveled to Heidelberg last Friday and Saturday as the keynote speakers for the inaugural Lessons in Leadership Series. The School of Business series is designed to bring together current MBA students and community leaders to hear insights and experiences in leadership from organizational leaders throughout the U.S.
Dr. Trish Berg, associate professor of management who organized the series, connected with the co-authors while using Love as a Business Strategy as a textbook in her classes. The co-authors Zoomed with Trish and her students during the spring semester and plans were laid for the four to come to campus to help kick off the series. They did not disappoint.
Following an informal dinner Friday night, Mohammad, Chris, Jeff and Frank were the featured speakers at a Saturday morning session with about 60 MBA students. It didn't take long to understand their humility, vulnerability, honesty and resiliency – qualities that drew Trish to them and their story.
Their story is one of rapid success, failure, redemption and most importantly, learning. The CEO and founder, Mohammad, who goes by Mo, started the session by sharing the story of Softway, a tech company he started at age 20, when his values were centered on greed for money, driving fancy cars … all of the luxuries of his concept of business success and living what he thought was the American dream.
Except it wasn't. "In 2015-16, it all stopped working," Mo said. The company was hemorrhaging money and Mo was forced to lay off 100 employees in a single day. "We did so in a very inhumane manner. I had no idea if Software would survive. It was an all-time low."
A transformation begins
A couple of weeks later, while watching one of the greatest comebacks in college football at his alma mater, the University of Houston, Mo witnessed something that would change his life – not only as a business leader but as a human. He learned about the culture of love and support that head coach Tom Herman had created for his team. It was an eye-opener.
"I had to ask myself, 'Do I love my team?' The answer was no."
At that moment, Mo decided he needed to put people at the center of his business, empower them to make mistakes and learn from each other. "As I began to change myself, I saw changes in others too," he said. It has been an ongoing process, but that marked the beginning of the turnaround of Softway.
Chris, a VP at Softway, shared that "love ain't easy."
"We had to learn the hard way, through confrontation and failure. It was something we had to grow through," he said. But it's exactly what they did.
This new culture, said Frank, the director of Culture+, took hold when Softway's employees began to understand that "the behavior each and every one of us shows to one another is built or destroyed with every interaction."
Softway's employees, guided by modeling of the company's leadership, decided to build. Together.
Creating a culture of love
After lots of introspection, Softway's leadership devised the Six Pillars of Love by which they framed their company for the future:
•    Inclusion: Visible and Invisible
•    Empathy: Put Yourself in Someone Else's shoes
•    Vulnerability: Take Ownership Over Mistakes
•    Trust: Believing Your Staff Can Handle What They Haven't Tried
•    Empowerment: Set Up Your Team to Succeed Without You
•    Forgiveness: Let Mistakes Go
The co-authors walked the MBA students through each of these pillars and the ways they work in harmony to create a workplace culture of love.
"These are not soft skills," Frank told the students. "These are critical skills … critical to the success of the organization as well as the individual."
Seeing results
After the transformation, business results turned upward in bit ways, according to Jeff: revenue tripled, client retention grew from 60% to 90%, employee attrition shrank from 30% to 12% and revenue generated per employee ballooned 269%
But the real success was in the framework behind the numbers – in the individual personal growth of the leaders and the employees, Chris said. This new framework "opened doors, relationships and networks and helped us expand our brand."
'Change starts with you'
Ultimately, Mo said, "We brought humanity to the workplace by prioritizing humans."
But not just at Softway. Its offshoot, Culture+, has been equally successful. Culture+ provides live events, digital tools, cultural advising, workshops, leadership coaching and change management consulting. In its short history, Culture+ has trained 1,400 business leaders in 10 cities representing 46 countries about their culture of love in the workplace. And there's no slowing down any time soon.
Advice for MBA students
Prior to a lively Q&A session, the co-authors were asked to give their best advice to the MBA students, and they provided some winning suggestions.
Mo: "Look for the good in others while looking for the weakness in yourself. Work on yourself first."
Chris: Borrowing from a Maya Angelou quote, "Tell the truth but first to yourself" and you will find ways to acknowledge your behavior and make different choices."
Jeff: "Stay on your path. Have courage. What stays with you is what you become."
Frank: "It's not about policies. It's about how we treat each other. Take the time to see the humanity in people. … Have a growth mindset around the impossible and take risks to try new things."
June 28, 2022
Latest News & Announcements