Young alums work to preserve late prof's Johnson's Island legacy
"Although I was not a prisoner, I do at times feel captured by the multiplicity of human experiences and stories Johnson's Island holds."
These words are from the book, "I Fear I Shall Never Leave This Island," penned by the late Heidelberg anthropology professor Dr. David Bush as he chronicled his three decades of experience studying primary documents and uncovering artifacts from the soil at the Johnson's Island Civil War Prison camp on Lake Erie.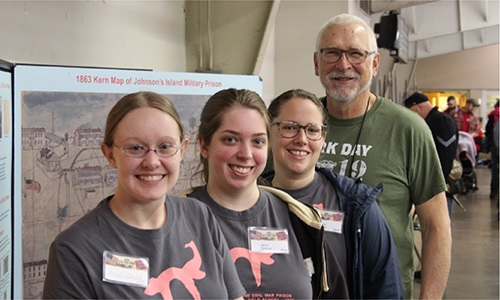 When Dave died on January 12, 2022, a world of knowledge and passion about Johnson's Island went with him. His loss was felt by everyone who had ever been involved with Johnson's Island. But a group of his former students and now 'Berg alumni – Amanda Manahan '10, Brandi Oswald '13, Dr. Tyler Putman '09 and Jaimie Graham '13 – have vowed to carry forward Dave's life's work and legacy.
As part of his extensive experiential learning outreach efforts and his dedication to study and preserve the Johnson's Island prison site, Dave founded the non-profit Friends and Descendents of Johnson's Island (FDJI) to ensure the continued work of the historically significant site. Since his passing, Amanda and Brandi have assumed larger leadership roles, stepping forward to co-chair the Friends and Descendents Board of Trustees. Tyler also recently signed on to serve as a board member, and Jaime has volunteered for various outreach efforts with the group.
Through his work, Dave ensured that people never lost sight of the true value of the Johnson's Island archaeological site: not merely objects lost to time ready to be rediscovered, but items that could tell us stories of the lives of those imprisoned and their successes and struggles.
Something about Johnson's Island captured Dave, Tyler says. "But what captured the rest of us was him. His sardonic humor, his relentless and critical curiosity and his tireless work ethic. Perhaps most of all, it was his ability to discern timeless human stories from stray diary entries and bits of broken pottery.
"I'm looking forward to helping ensure that his life's work and legacy continue to benefit people, including the careful stewardship of our collections and property through sharing resources online," he adds.
The others agree.
"His dedication and insight saved this site from being destroyed over 30 years ago, and he fought to make it a National Historic Landmark because it was the right thing to do," says Amanda, who joined the FDJI board in 2016 at Dave's request. "While we will miss his leadership, knowledge and passion, FDJI will continue to carry out his vision and I am personally honored to be part of it."
Many have asked about the group's future, but Brandi is confident – even reassuring – that the mission and activities will continue. "We will of course carry on … continuing to tell the important story of Johnson's Island Civil War Prison and continue to preserve and make accessible the physical site of the prison and the artifact and manuscript collections owned by FDJI," she says.
A profound impact
Although his students say Dave could be intimidating at first – with his deep, booming voice, sharp wit and high expectations – those first impressions soon evolved into respect and admiration. It never took long for the students to understand his true character – a truly dedicated and compassionate individual who invested himself not only in their success but in "showing us what the past has to offer us in relation to our shared humanity," Amanda says.
That sense of honor and respect for a professor, mentor and friend extends to the other former students as well, some of whom stayed on after graduation to work with Dave at the Johnson's Island experiential learning outreach program, on field trips and in the lab.
Brandi, who came to Heidelberg to major in history and minor in archaeology, added an anthropology major instead. Familiar with Johnson's Island through her hobby of Civil War re-enacting, she absorbed more and more about the island through her work in Dave's lab at Heidelberg, processing artifacts and supervising other undergrads on their class projects.
"Working with Dave and the Center for Historic and Military Archaeology provided me with experience in historic preservation, collections management and storage, public interpretation and museum studies – opportunities which typically are not available to undergrads," she says. "I have no doubt that my unique experience with Johnson's Island helped me to land highly competitive internships and jobs with the National Park Service and get into one of the public history graduate programs in the country at West Virginia University." After interning with the National Park Service, Brandi currently works as the Supervisory Archivist at the National Archives at College Park.
For Jaime, Heidelberg's hands-on archaeology program was the draw. "I truly consider the four years spent earning my bachelor's degree with Dave as my mentor to be formative: every day he demonstrated a level of enthusiasm and dedication that made him easy to respect and admire, and his passion for Johnson's Island was so infectious I couldn't help but be passionate about it too," she says. For several years after she graduated in 2013, Jaime stayed on as Dave's field assistant during the summer months. "Those memories are some of my favorite."
Tyler attended one of Dave's Johnson's Island field schools before he even enrolled at Heidelberg after reading about the island's archaeology initiatives in a Civil War magazine.
"Throughout my time there, Dave was a leader and a mentor who I looked up to," he says. "On Johnson's Island, I learned how to communicate the excitement of historical investigation and discovery to people from all backgrounds. As a museum professional, I use those skills every day." Today, he is the Gallery Interpretation Manager at the Museum of the American Revolution in Philadelphia.
Amanda's path is perhaps the most unique; she came to Heidelberg as a music education major with no interest in history or anthropology. But history started to become relevant her freshman year when she joined the Anthropology Club. After a conversation with Dave, she changed her major.
"Though I never planned to pursue archaeology as a career, I could see a path forward working in museums," she recalls. "Through working with Dr. Bush at Johnson's Island, a foundation was laid for my future academic and professional careers. I learned theory and practice, honed my critical thinking skills and gained practical experience in documentation, material culture and interpretation."
Dave served as her mentor for 15 years, as well as a friend and colleague. "My experiences with him and Johnson's Island are inextricably linked to who I am today," says Amanda, who has been a museum educator and tour coordinator with the Oberlin Heritage Center since 2015. "I put in a lot of hard work and time into Johnson's Island while at Heidelberg, but I still feel like the scales are tipped in my favor with what I gained both personally and professionally.
"A part of me hopes my involvement is a repayment of sorts for all of the time that was invested in me as a student, but even now, it's a mutually beneficial experience and I'm still learning new things every day."
A legacy preserved
Before Dave retired from Heidelberg in 2017, he involved 'Berg students in many aspects of his work, on Johnson's Island and back home on campus.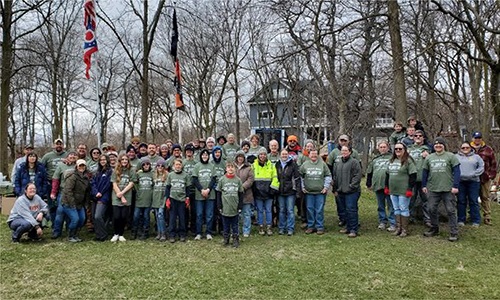 Together, they set up and closed the archaeological site, usually in terrible weather. They dug in the dirt to discover artifacts buried for nearly 150 years. They cleaned and categorized artifacts. They shared their knowledge with school children who were experiencing archaeology and history for the first time. They laughed … a lot. They learned – like Dave – to be communicators and storytellers and lifelong learners.
And they walked down unexpected paths to productive and purposeful careers in public history, museums and archives.
Today, the beat goes on.
There's just something about working on Johnson's Island – and with Dave – that got into his students' blood.
As they assumed the leadership reins of the Friends and Descendants organization – even though they are spread out across the country – Brandi, Amanda, Tyler, Jaime and alumna Rebekah Schwab '16 are committed to sustaining their professor's legacy, along with the help of the board and a mass of volunteers who have worked with Johnson's Island since the beginning. Together, the group is navigating the waters without Dave. In particular, credit goes to Dr. Marcia George, who developed much of the educational content for the Experiential Program. 
FDJI is still actively preserving and maintaining the artifacts as well as the physical land where the Johnson's Island prison site is located. They also offer programs, exhibits and tours to the public as they are able.
They have (collectively or individually) volunteered to represent FDJI at the annual Ohio Civil War Collectors Show in Mansfield, Ohio, and planned, volunteered and helped organize the annual Park Day clean-up of the site. Amanda and Brandi assisted with the preparations for the artifact move from Heidelberg to the Liberty Aviation Museum in Port Clinton, Ohio, last fall, helping Dave to organize artifacts and other related collections and items.
Public outreach remains the hallmark of the FDJI's mission. It was Dave's mission, too.  When Brandi formally joined the FDJI board in 2018, she became the group's social media coordinator and served on committees related to the development of exhibits at local museums and the relocation of the artifact collection.
The ultimate honor
On a very personal note, Brandi and Amanda were asked by Dave's family to help organize his memorial service, which was held on Johnson's Island in May. They helped to arrange logistics, and the two of them, along with Tyler, Jaime and other associates and family members, gave personal tributes at the service.
July 11, 2022
Latest News & Announcements