Alum scientist's push for COVID vaccination
'Berg alumnus Dr. Mark Peeples '74 remembers when polio struck terror across America. It was the 1950s and virologists all around the country rushed to develop a vaccine. As soon as the two best polio vaccines were tested and available, all children in America were vaccinated, essentially eradicating the disease from the country and from nearly every place in the world. This same process holds true for smallpox, measles, mumps, rubella, chickenpox and many bacterial diseases too.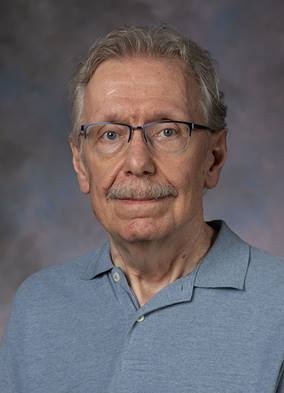 "We can do the same with COVID-19, but only if everyone is vaccinated," said Mark, who has spent his distinguished career as a virologist, studying and developing vaccine candidates for respiratory syncytial virus (RSV), the most common cause of hospitalization for young children in the U.S.
He's passionate, even adamant, about the importance of getting the COVID vaccine because he knows this parallel: the COVID vaccine could have the same impact as the measles vaccine if everybody got it.
Mark's lab at Nationwide Children's Hospital in Columbus, in collaboration with six other labs, has been developing vaccine candidates for RSV. When COVID struck, his lab shifted much of their effort toward understanding SARS-CoV-2 (COVID-19) and the new respiratory virus that causes it.
"We have made progress in understanding how the virus initiates infection of the airways and measured antibodies to the virus in infected and vaccinated people, their effectiveness, and how long they last," he says, adding that he and colleagues at Ohio State and Nationwide Children's Hospital have developed a candidate COVID vaccine that has been licensed to a vaccine company.
But there remains the issue of getting vaccines into arms. And for Mark and many others, it's an issue of human compassion and caring.
"When you get vaccinated," he says, "you show that you care about your community. If you do not get vaccinated, you are enabling COVID to continue to circulate among the unvaccinated."
It really is that simple.
Vaccine misgivings and EUA explained
Health experts who have tried vehemently to persuade people to get the shot are up against "vaccine hesitancy" that often centers around the safety of the three COVID vaccines and the rapidity by which they were given Emergency Use Authorization (EUA), the step before full FDA approval.
Vaccination hesitancy is frequently based on ideology, apathy or fear. But as the super-contagious Delta variant has invaded the country and caused huge spikes in new COVID transmissions, hospitalizations and deaths – this time among a younger demographic and the unvaccinated – it's time to put hesitation aside and get the shot, Mark says.
That's because science has proven that it is safe and effective.
So far, about 160 million Americans have received one of three COVID vaccines in the U.S. (Pfizer, Moderna or Johnson & Johnson). All three were given EUA. In an emergency, like the pandemic, the FDA issues EUA once the safety of a vaccine has been proven in Phase 3 trials, usually with 30,000 people. EUA is also granted "so a vaccine can be used quickly to protect people and save lives," Mark explains. 
Full FDA approval takes about six months longer and is an administrative procedure to make sure that all the instructions are accurate for long-term storage of the vaccine without loss of potency in doctors' offices and warehouses. "Full FDA approval has nothing to do with safety," he says.
The vaccines have produced very few side effects and have proven very effective in preventing hospitalization and death – an ideal vaccine.
"Most vaccinated people are not infected or if infected, have mild disease. Very few end up in the hospital and virtually none die."
Toward herd immunity
As the start of the 2021-22 academic year quickly approaches, Heidelberg continues to collect vaccination data from students, faculty and staff toward achieving herd immunity of 75% of the community fully vaccinated. Herd immunity is essential for any community that wants to return to normal.
But in light of the Delta variant, 75% may not be enough. Mark explains that when the Delta variant infects someone, it produces 1,000 times more virus than previous variants. "That's why it's been able to replace nearly all other SARS-CoV-2 strains in the U.S. so quickly," he says. If it's allowed to continue to spread through huge populations of unvaccinated people as it's doing now, it will continue to evolve. Because viruses mutate when they replicate, we can expect new variants that spread faster or avoid antibodies better.
"The viruses that survive and spread most efficiently are naturally 'selected,'" he adds. "This natural process is slowed down or stopped by a fully vaccinated population, avoiding an even worse variant."
As a scientist, his best guess is that at least 90% vaccination rate will be needed to protect nearly everyone, and 100% would be ideal.
Mark doesn't say this to scare people, but to explain a rather grim reality if COVID vaccination rates don't increase quickly.
Vaccines have been the single greatest achievement for reducing death and disease, in parallel with antibiotics, leading to a dramatic increase in lifespan and quality of life. But COVID has claimed more than 600,000 lives in the U.S. and more than 4 million worldwide, and is driving lifespan lower.
"You can do your part to stop COVID by being vaccinated. Protect yourself. Protect your community. Get back to normal."
August 5, 2021
Latest News & Announcements