Walkable Wonders: Madison Street Tavern and The Empire
Join Marketing intern and recent 'Berg alum Em Swain, '22, as they visit local businesses only a short walk away from Heidelberg University's campus. It's Walkable Wonders, our summer web series!
Welcome to the first and only Saturday edition of "Walkable Wonders!" This week has been so much fun and a wild ride for everyone starting their classes at the Berg for the first time in several months, or the first time ever! I hope that everyone had a great time with convocation and will enjoy "Around the Town" later today!
This week, I wanted to talk about two great places to eat, which I've enjoyed every time I've been! Madison Street Tavern and The Empire are two places pretty close to each other that have completely different styles, but the same welcoming atmosphere. So, I'll jump right into it!
Madison Street Tavern
Madison Street Tavern ("MST") is the place to go in Tiffin. It's not a secret that I prefer local businesses, but MST is far above any chain wing place I've had. Chris Chase, the owner, prides himself on MST's consistency and service. Every time you order a basket of M&M chunks, you get the same basket of M&M chunks. And you see the same couple of friendly faces every time too! It gets easy to get in a rut with your favorites, but they have such a great variety that it's more than worth it to branch out.
Here is my recent rut, for those of you interested! Cheese curds with ranch seasoning; the "Bobby" sauce or the "M&M" sauce; and for those of you looking for cocktail recommendations, the "Pineapple Upside-Down Cake," is hard to beat! I'm on my way out of the rut, and will be starting with "Griffs," "Social Burn" and "The Kitchen Sink" (which was just recommended to me while I was out getting the photo.) I truly think you cannot go wrong here! MST was recently featured on America's Best Restaurants – which doesn't surprise me in the slightest. They have recently begun expanding their brand with their new bottled sauces, and their collaboration with Ballreich to produce "Dry Rub" chips. 
MST is located on the corner of Madison Street and Pat DeMonte Way, a 13-minute walk away from the center of campus. They're a pretty booming place, so be sure to get there before lunch or dinner rush! For more information on them, check out their website, or the piece that America's Best Restaurants did on them.
The Empire 138
If you're looking for a classy place to have a bite, I have to recommend the Empire. The Empire is a beautiful, rustic collection of brick, photography and chandeliers, with the occasional live pianist. After the graduation ceremony in the spring, my family and I ate there to celebrate. It was wonderful! The restaurant really cares about the Tiffin community and events, setting up a Heidleberg-themed balloon arch for celebrating 'Berg graduates.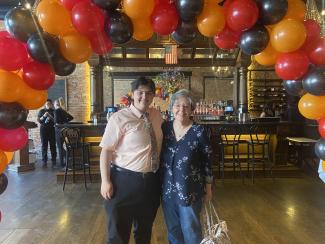 Before visiting again, I asked my friend, and Empire waiter, Cam Spraggins to tell me a little about the place. "With great food, a friendly staff and beautiful historical architecture, The Empire 138 is a wonderful way to spend an evening for those looking for a fine-dining experience," he told me.
I'm inclined to agree! I really enjoyed the Empire burger, and loved the fries! It was a large enough portion to share with my mom, which I always appreciate. Their limited hours, and extra hours for special events, also helps to make the place feel more like a special treat. It's a clear break from the norm, and a fun place to take photos and talk with loved ones. I love going to the Empire for a celebration.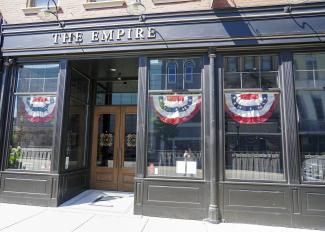 The Empire is located at 138 South Washington Street, a 13 -minute walk away from the center of Heidelberg's campus. They are open from 5 p.m. to 10 p.m. on Thursday, Friday, and Saturday. For more information on the Empire, check out their website. 
August 20, 2022
Latest News & Announcements