Internship Chronicles, Chapter 10: Ben Pollizi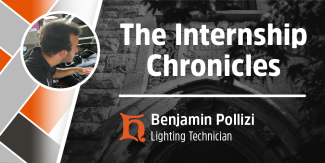 One spring day, a Student Prince decided to go on a summer adventure. "It won't be long before I have a career," the Prince said, "so I'd better start preparing now." So with some 'Berg education under their hat, and some connections in their back pocket, the Student Prince began forging their way through an internship.
We continue our web series, Internship Chronicles.
Chapter 10: "Adapt, Persevere and Work Hard"
Ben Pollizi is a senior musical theatre major from Chippewa Lake, Ohio. This summer, he worked as the lighting technician at Lakeside Chautauqua. Lakeside Chautauqua is a historic community and vacation resort associated with the Methodist Church, which frequently hosts live performing artists. Ben is a theatre-focused renaissance man, who aims to work as an actor, lighting designer, and all-around artist in the professional theatre world. It's important to Ben that he creates art that will make a difference.
How did you find your internship, or how did the internship find you?
I found out about this internship from Prof. Michael Shirtz, who works at Lakeside and sent the job postings on our canvas page. 
What did you expect from your internship initially?
I expected to be working in a concert venue where I would have the chance to work with other like-minded professionals to produce high-quality work. I was not sure what the size of the team would be or what every week would look like. 
What really happens in your day-to-day work?
I work with a team of about three other people who work full time and we come in three days or so a week to work and set up for the shows on the weekend. Over the weekend we have one or two acts that come in and we load them in, implement tech for their show, run the show and then load them out and prep for the next show the next day. 
What connections have you made?
Everyone I work directly with on Hoover Crew at Lakeside has been wonderful! Everyone at Lakeside in general as well has been absolutely wonderful and welcoming. The people I live and work with work in many different areas and live all across the country and it has been wonderful to connect and become friends with so many different people. These friendships and connections will be something I take with me and hold dear as I move forward in my career and life. I also am meeting many performers of different varieties that come in from across the country and getting to work with them is valuable experience.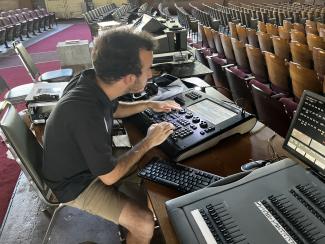 What is the most valuable thing you'll bring back to the classroom after this experience?
Working as the lighting tech at Hoover has allowed me to be fully self-sufficient in my lighting skills and allowed me to trust my gut more in my abilities. The majority of the acts I am lighting live, rather than using pre-written cues, so that also brought a new challenge for me. It has taught me to think fast and be adaptable, and I think that is what the biggest thing I bring back will be. 
If your internship was a book or a chapter in a book, what should it be titled?
"Adapt, Persevere and Work Hard."
For more information about Lakeside Chautauqua, visit their website.
To keep up with what Ben is doing, visit his website or check out his Instagram
August 23, 2022
Latest News & Announcements