Internship Chronicles, Chapter 12: Mackenzie Murray
One spring day, a Student Prince decided to go on a summer adventure. "It won't be long before I have a career," the Prince said, "so I'd better start preparing now." So with some 'Berg education under their hat, and some connections in their back pocket, the Student Prince began forging their way through an internship.
We continue our web series, Internship Chronicles.
Chapter 12: "Organized Chaos"
Mackenzie Murray is an exercise science major from Wayne, Ohio. Mackenzie is working with Melanie Redd, a Strength and Conditioning Coach who owns and operates a business, Melanie Redd Performance Training. Like Melanie, Mackenzie is working towards becoming a strength and conditioning coach.
How did you find your internship, or how did the internship find you?
I found my internship from a coach who told me to reach out to Melanie. The coach had seen what she was doing based on her Twitter account, and figured I should try and get in touch with her. 
What did you expect from your internship initially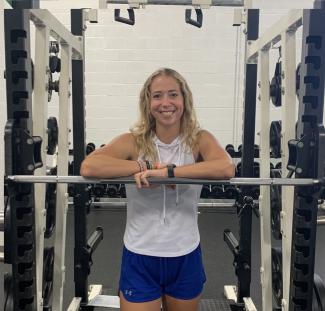 When starting my internship, I thought that I was going to be on the sidelines: watching Melanie and taking notes on how she ran her weight room at Chaminade Julienne High School. That is not at all the case.
When I had my first day she had told me to walk around and if I felt comfortable giving critiques or coaching to go for it. She doesn't run her weight room as a super tight ship. She has told me on countless occasions that "it's chaotic," but she likes it that way. And that is very true. The athletes are set up with their workouts and are expected to get things done in a timely manner. 
I was also expecting a lot of the kids to have lifting experience but that is not the case either. Some of the kids who are coming into the weight room have never even touched a barbell let alone have an understanding of the mechanics of doing a proper hang clean.
What really happens in your day-to-day work?
On a daily basis, when in the weight room, I am helping set up drills and overseeing certain drills. I'm learning what to look for, in terms of what the athlete should look like, and common things that can happen with young athletes. I also do critiques as I see it fit and learn to build relationships with the athletes.
What connections have you made?
I am slowly but surely making some connections with the other coaches that come to the weight room and getting to see how they interact with their athletes. I also get to see some of the younger kids grow, and see the critiques given to them by Melanie, her assistant coach, Austin, or me. I get to see everything start to fall into place for these athletes.
What is the most valuable thing you'll bring back to the classroom after this experience?
After this internship, I feel that I will be able to understand chaos and learn how to make it organized chaos. So far, I've come to realize that athletes don't necessarily need to have a strict structure to get things done. I feel that I will have a great connection with Melanie, and will be able to represent her well in my future endeavors.
If your internship was a book or a chapter in a book, what should it be titled?
If I were to title my internship experience as a chapter in a book, I would probably title it "Organized Chaos." That is probably the best way to describe everything – but not in a bad light, just as a way to show a different style of coaching.
August 30, 2022
Latest News & Announcements