GA to SID: Learning from 'the best in the business'
When Jeff Garvin '04 became director of Athletic Marketing and Information in 2012, he quickly realized it's the work of unsung heroes. Often the first to arrive and last to leave, sports information directors are tasked with a wide range of assignments – including statistics, live video management, pregame and postgame coverage – in a fast-paced environment.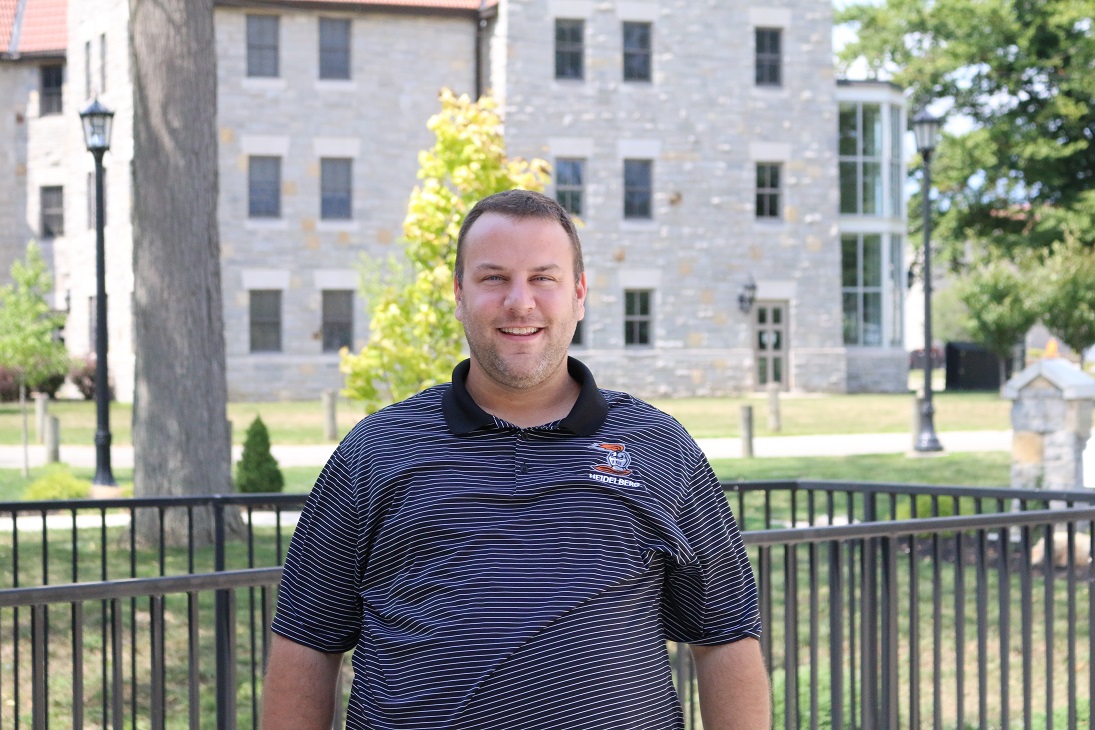 Throughout his tenure, Jeff – who this fall added the title and responsibilities of interim Athletic Director – has enlisted the help of graduate assistants. What he may not have realized at the time was that, in addition to providing an extra set of hands, he was also setting the GAs up for success.
He has proven to be an excellent leader who provides the perfect environment and approach to learning the ropes.
 
Over the past nine-plus years, Jeff has trained five GAs: Kyle Youngblood, '12; Kyle Stover, MBA '16; Marissa Smego, '16; Nick Astalos, MBA '20, and Adam Knaub. Four of the five have gone from GAs at Heidelberg to become sports information directors at the collegiate level.
 
That's an excellent placement percentage and proof that at Heidelberg, teaching, mentoring and career prep happens outside the classroom too.
 
"It's been fun to see where they've gone and how they're doing professionally," says Jeff, adding, "They've taken ownership of their careers and worked really hard."
 
"It's always been about their goals and wanting to meet their expectations." Their testimonials indicate it's been a win for everyone!
 
•    Kyle Youngblood first became a full-time assistant SID at Oberlin College, moving to the National Association of Collegiate Directors of Athletics as a coordinator. He currently is the assistant director of Alumni Engagement at Oberlin, but has continued to keep his hand in SID work on the weekends.
•    Kyle Stover pursued a different career path. He is a Business Operations Analyst III for Dish Network in Colorado, and still assists Jeff on occasion.
•    Marissa Smego, who earned her undergrad degree in history and sport management as well as her MBA from Heidelberg, is the SID at Albion College in Michigan.
•    Nick Astalos, who completed his MBA in 2020, is in his first full year as SID at Capital University.
•    Adam Knaub, a '20 Wilmington College grad, is the newly appointed SID at Earlham College in Indiana.
For Jeff, it's been "like baby birds flying from the nest." And it's a good feeling. He works with all of his GAs to hone their individual skill sets, teaching stats, writing best practices and game management. "There's a learning curve," he says, "but what I want to do is make sure their voice and personality comes through in whatever project they're working on." By their second year, the GAs are typically ready to work independently. They cover their assigned sports on game days, manage the PA, stat the games, write and post their game stories on the website and social media, and handle roster management.
The GAs who've worked with Jeff say they've been extremely well prepared for the challenges of their SID jobs.
Kyle Y.'s success story
As an athlete, sports is an integral part of Kyle's identity, so it was a no-brainer that he would initially choose some form of athletics as a career. Working with Jeff at their alma mater has been the perfect training ground.
 
"I genuinely enjoyed Jeff as a boss. His personality is infectious. He works hard every day, leads by example and has the innate ability to make you laugh at the same time," Kyle says.
 
The work ethic he learned as a GA is "probably the most important piece of knowledge that I've carried through my career."
 
"I was clueless about how to operate in the professional space … When I got to Oberlin, I had more responsibilities out the gate and I was ready because I didn't have to acclimate to the notion that 'I'm a professional.' Jeff instilled that in me."
Marissa's success story
Marissa first got to know Jeff during her time as a standout softball player. "Based on his coverage of our softball team's historic seasons in 2015 and 2016, I knew I was going to be learning from the best," she says.
 
Marissa knew heading into her GA position that becoming an SID was her career path. It didn't take long for Jeff to trust her abilities to cover games on her own. That was a real confidence builder. To this day, when she encounters certain tasks, she hears his voice in her head. It's great to have her former boss and mentor as a go-to resource.
 
"Everything I have ever learned for this job, I learned from Jeff, and I still ask him a lot of questions to this day," she says. "I'm totally biased, but I truly believe Jeff Garvin is the best SID in the business."
 
She's never been happier professionally. Even as a one-woman operation covering 24 sports, her time as a GA at Heidelberg taught her to prioritize. "It can definitely get crazy, but I always tell people, 'I was raised by Garvin,' and with a Chipotle bowl in hand, it will get done!"
Nick's success story
Connections matter. Jeff's parents and Nick's grandparents grew up together in their hometown of Cleveland. That made their working relationship smooth and productive.
 
Like the other GAs, Nick appreciated the preparation he received for his current role at Capital. It gave him a platform to learn the industry and receive "true individualized training that not many people have the opportunity to experience."
 
Working at Heidelberg's athletic venues also gave Nick a chance to learn different set-ups – a skill set he uses now in his day-to-day and gameday routine.
 
Nick has found himself involved in a couple of athletic-related institutional projects, including the selection of a new mascot name. No longer a GA, he now understands what it's like being in charge, and it's going extremely well.
Adam's success story
Adam's story is shorter than the others, leaving his GA position midseason – but for good reason. His last day at Heidelberg was last Saturday. He's off to his first full-time SID position this week at Earlham – the ultimate success.
 
While at Heidelberg, Adam, a Wilmington graduate, enjoyed the hectic nature of running gameday crews in the press box
 
"This position gave me more time running stats, which is always helpful and also gave me experience doing sports information office work, learning some of the less flashy aspects of the job," he says.
Beyond the GAs
Jeff is also blessed with a large staff of student employees who also help with a lot of athletic events and game management. These typically are students who have interest in athletics, love sports in general, but are not going to play professionally. Heidelberg is providing a great opportunity for them.
 
"It's a great opportunity to sneak in some great resume-building experience for them that they can use to figure out their own path," Jeff says. "They look up to the GAs since they are their peers."
 
Between the GAs and the student workers, Jeff has had the freedom and flexibility to devote more time to his "passion projects," and even have a little well-deserved family time in-seasons.
September 21, 2021
Latest News & Announcements