#52: Alums seek to honor fallen teammate with scholarship
At 6-4 and 310 pounds, Shaun Martin -- #52 on the football field – was an intimidating physical presence. But he had a huge soft spot in his heart for at-risk kids. So much so that he committed himself to a life of service to help those disadvantaged in his community, giving them the power and knowledge to turn their lives around.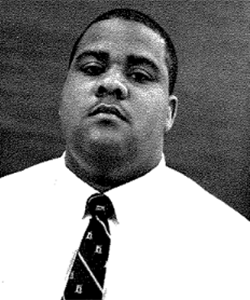 He understood their challenges and wanted nothing more than to make a difference for them. That's why, when Shaun's life was tragically cut short on Feb. 4, 2022, it hit his family and friends especially hard.
 
A product of the Columbus (Ohio) Public Schools, Shaun excelled in football, eventually finding his way to Heidelberg. Now, a group of former teammates and friends is rallying together as a way to honor Shaun's memory and pay tribute to the impact he had on so many Columbus kids.
 
The group is led by Todd Carte '92, Chris Dillon '93, Greg Green '92, Bill Landess '95, David Perez '92 and Lisa Sandwisch '93, who are looking to raise funds to create an endowed scholarship at Heidelberg, to begin at $25,000. When funded, the scholarship would give priority first to Columbus City Schools students and then to Franklin County students.
 
"We want to honor the work that Shaun did for at-risk youth. He literally gave his life doing what he loved and believed in," says Bill, who also serves as a Heidelberg Trustee. "Throughout his time here at the Berg and throughout his career, he changed the dynamics and trajectory of the lives of hundreds upon hundreds of disadvantaged young people."
 
Todd and Shaun were teammates for three years. "He was a great friend. My mom even took him under her wing a lot," he recalls. "He was everyone's favorite football player, a student favorite … never met a stranger."
The scholarship is their way of keeping Shaun's spirit alive.
Fortuitous arrival
The story of Shaun's arrival at Heidelberg is the stuff that legends are made of. Shaun's head football coach, Dick West, remembers it well.
 
After graduating from Independence High School, Shaun secured a scholarship to play football at Central State University, behind a future NFL player. He played one season before taking a year off, when his daughter, DeShauna, was born. But he wasn't done with football and his high school friend knew it.
 
Kevin Blankenship '90 wanted Coach West to meet his high school teammate, who was interested in transferring to Heidelberg – if he would be guaranteed a starting position. "I explained to him that I can never promise a player they can start," the coach said. "But I did assure him that I did not have any linemen who had his size and talent."
 
On the gridiron, Shaun was nothing short of dominant at offensive tackle. One game, when he was faced with the task of blocking an All-American defensive end, he moved into position on the first pass and posted his hands on the player's chest. Totally controlled him. "This happened in every game," Coach West says.
 
He adds, "The funniest plays to watch were when we pulled him on counter plays. Shaun would pull through the hole and blast opposing linebackers. If the linebacker misread the play, Shaun would continue to run upfield to block the next man. This was usually a 170-pound defensive back. When those little guys saw Shaun, their eyes got big and most just tried to avoid contact by diving at Shaun's ankles."
 
Turns out, there was no guarantee for playing time needed. Three years later, Shaun was named First-Team All-Ohio Athletic Conference and was selected as the most outstanding lineman in the OAC.
Gridiron greatness
While at the Berg, Shaun was a three-time letter winner who was a preseason All-American selection in 1990 and 1991. He was named to the OAC Second Team in 1990 and he concluded his playing career with a nod on the All-Conference First Team, as Coach West noted.
 
In 1991, Don Hansen's National Football Gazette named Shaun an Honorable Mention All-American. During his college years, he was challenged with the loss of his mother, then his father and a childhood friend. Every time he suited up, he would place his parents' driver's licenses in his socks. The support he received at Heidelberg during those tough times in his life gave him the courage to challenge himself to stay in school and graduate in 1992.
 
In 2010, Shaun Martin was inducted into the Heidelberg Athletic Hall of Fame. He was presented for induction by his head coach. "I love Shaun Martin," Dick says.
Like a brother
Shaun's teammates loved him equally as much. He was like a brother to many of them.
 
"Shaun was my senior mentor my freshman year. He set the standard for performance on our team," Bill says. "He was both figuratively and literally bigger than life to us! And I know that the young people he worked with during his career on a daily basis felt the same way."
 
Shaun served as a high school coach for the Columbus City Schools and the Eastland Vikings Little League team. He was a corrections officer for 10 years and served as a case manager for the Juvenile Criminal Justice Department at the YMCA. He loved bowling, fishing, family reunions and hanging out with his friends.
 
And above all, he loved his family.
Giving to the scholarship fund
Teammates and friends are encouraged to make a gift to the endowed scholarship fund.
 
"We hope this scholarship continues to help young men and women in Columbus and Franklin County in the same spirit and commitment that Shaun showed every day in his life," Bill says.
 
Gifts to the Shaun Martin #52 Memorial Scholarship will be gratefully accepted and can be made online or by contacting Phil Ness, vice president for University Advancement and Alumni Affairs at Heidelberg, at philness@heidelberg.edu.
September 28, 2022
Latest News & Announcements