Alumnus, 'Berg basketball standout joins Board of Trustees
Alumnus and 'Berg basketball standout Claudie Johnson, '85, is the newest member of the Heidelberg University Board of Trustees. Claudie will serve a four-year term (2021-25), beginning immediately, elevating the total number of Trustees to 29.
According to Board Chair Kathleen Tirbovich Geier, "Heidelberg is fortunate that Claudie has made this commitment to serve his alma mater in this important way, and I believe he will be a great asset to our Board for many years."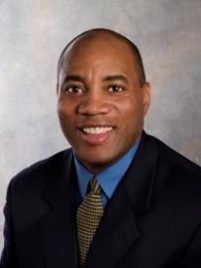 A resident of Charlotte, North Carolina, Claudie has been working in the financial services industry for more than 30 years, primarily in the area of wealth management.  He is currently the Charlotte City Executive for Self-Help Credit Union, a leading national community development financial institution headquartered in Durham, North Carolina.  Additionally, he is the Managing Director of JareMarc Advisors, LLC, a financial planning firm which he founded in 2011.  He is a Certified Financial Planner.  In his community, Claudie has volunteered with the Board of Visitors at Johnson C. Smith University. He is a member of the Charlotte Rescue Mission Endowment Board of Directors. 
Claudie excelled on the basketball court during one of the greatest eras of 'Berg basketball and remains one of the program's most recognizable stars.  A sharp-shooting guard, he helped lead the Student Princes to the NCAA Sweet 16 at the conclusion of the 1983-84 dream season.  In 2017, he was inducted into the Heidelberg Athletics Hall of Fame.  Also as an undergraduate, he was a TSD Peer Facilitator, served as a resident assistant, and was an admission tour guide.  Recently, he participated in one of our Diversity, Equity, and Inclusion Committee zoom meetings, and has returned to campus often for Alumni Weekends and other alumni gatherings.
Claudie is the father of two grown sons, Christian and Cameron.  His brothers, Kenneth (Gene) Johnson and Paul also are 'Berg graduates in 1993 and 2008 respectively.
Trustee Dr. Carol Cartwright, chair of the Board's Governance Committee, is looking forward to future Board collaborations with Claudie. "It's a pleasure to welcome Claudie to the Board.  We look forward to the high energy, ideas and expertise he will bring, along with his great passion to move Heidelberg forward."
President Rob Huntington added that he was impressed with Claudie when the two met four years ago.  "He is an individual of high character, well-informed about higher education issues and passionate about making a difference for future Heidelberg students.  He is the ultimate team player who wants Heidelberg to win."  Trustee Dale Chorba, '85 and basketball teammate, recommended Claudie to the Heidelberg Board.
Claudie attended his first Board of Trustees meetings on October 15.  He also participated in the Builders & Benefactors Reception and other activities while in Tiffin.
October 25, 2021
Latest News & Announcements