Toledo TV stations feature news of HU's Title III grant
​Last week's news that Heidelberg is the recipient of a $2.165 million Title III federal grant caught the attention of two regional TV stations, among other media outlets.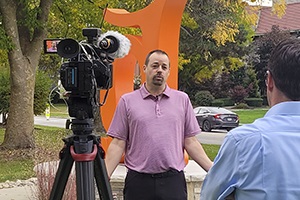 Last Friday, Jon Monk from WTOL was at Heidelberg and Wednesday, J.D. Pooley from WTVG visited the campus for the first time. Both multimedia journalists conducted interviews of Dr. Courtney DeMayo Pugno, the Title III grant project manager, and CIO Tobey Robison, who will oversee the creation of a unified cloud data warehouse that the grant will fund.
Many thanks to Courtney and Tobey, who are both naturals on camera, and to Dr. Anne Anderson, who allowed J.D. to film B-roll video in her classroom on very short notice.
In case you missed the segments on these Toledo TV stations, you can watch them here:
J.D. Pooley's report on WTVG
Jon Monk's report on WTOL
​
October 26, 2023
Latest News & Announcements