Coming Fall '25: New Fieldhouse will transform, energize campus
Heidelberg University is about to embark on the largest and one of the most transformational projects in its history. On Saturday, the upcoming new Student Athletics, Academic, and Recreation Center was revealed publicly.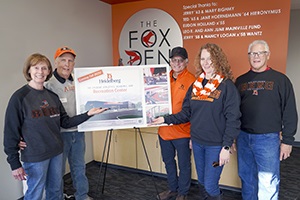 The new facility, affectionally called the Fieldhouse, will be located on the site of the current Senior Apartments on Main Street. Construction is slated to begin soon with a planned completion and opening in the Fall of 2025.
 
When completed, the Fieldhouse will be a place where all students belong.
 
It's a $28 million investment in student success that is entirely donor-funded and includes the single largest estate gift in Heidelberg's history.
 
Heidelberg Athletic Director Greg Cooper made the official announcement at Heidelberg's last home football game of the year on Saturday.
 
"The next era of investment in our students starts today," Greg told the crowd gathered at Hoernemann Stadium. "The Student Athletics, Academic, and Recreation Center will transform and energize our campus in so many ways.
A game-changer for Heidelberg
Indeed, the new Fieldhouse will be a game-changer for Heidelberg. When completed, it will encompass 110,000 square feet and will feature:
three indoor basketball courts (one wood)
a 200-meter competition-level track and field space
a turf field for field sports and Marching Band
a state-of-the-art training room and locker rooms
classrooms for Exercise Science, Health Science, Sport Management and the graduate Athletic Training Program
leadership development and team-building space
a lobby for events and social gatherings
an upper-level mezzanine for events and 2-sided viewing
"Our intent is to build an inspiring and welcoming Fieldhouse to serve the entire Heidelberg campus – student-athletes, non-athlete students, faculty and staff – as well as the local community," Greg said.
More than an athletic space
University officials agree that the Fieldhouse will serve as much more than an athletic space. Academic, co-curricular and extra-curricular activities will intersect there and will free up space for non-student athletes as well.
 
"The Fieldhouse will provide Heidelberg students some pretty incredible experiential learning opportunities," said Dr. Courtney DeMayo Pugno, Assistant Vice President for Academic Affairs and Executive Director of the Owen Center for Teaching and Learning. In addition to classroom space for Health Science, Exercise Science, Sport Management and graduate Athletic Training, Courtney added that the new facility also will promote greater access to wellness activities such as pickleball and ultimate frisbee, and a revamped intramural program.
One of the best in the Midwest
Coaches and student-athletes are excited because the Fieldhouse will eliminate the operational and logistical barriers created by a lack of practice and scrimmage space. The indoor space will allow student-athletes to practice during normal hours so they have more time for academics, socializing and campus activities. Early-morning and late-night practices will be a thing of the past.
 
"With more space and resources, student-athletes won't have to battle for a time slot or a facility to practice," said senior Gabrielle Stallbaum, a Health Science major and softball player. "Having the fieldhouse will create a more stable, supportive schedule so that we can give more time to schoolwork and necessary self-care."
 
When completed the Student Athletics, Academic and Recreation Center will be one of the best facilities in the Midwest and it will elevate Heidelberg in the Ohio Athletic Conference. The center also will strengthen community relationships and connect the campus to the greater Tiffin community in new and exciting ways. We expect stronger recruiting, retention and a sense of belonging for all.
 
"The opportunities for engagement with high school students, teams, parents and coaches are increased significantly with a competition facility," said Bill Cooper, a '96 'Berg alum and the current Head Men's & Women's Track & Field Coach. "Just that exposure alone opens the door to a potential new group of prospective Heidelberg students."
Crossing the finish line
"This facility would not be possible without the incredible generosity of so many, including alumni donors and members of Heidelberg's Board of Trustees," said Greg Cooper.
 
Indeed, donors have already given $13+ million in cash with another $13+ million pledged. There's about $1 million remaining to raise to reach the $28 million projected cost.
 
Donors recognize the importance of such a facility in today's higher education landscape.
 
"The world of higher education is very competitive today and will remain so going forward. Competition to attract and retain students has never been greater," said Heidelberg Trustee John Kratz '63, who is a donor to the project. "To be successful, Heidelberg must offer relevant academic programs and a great student experience. The Fieldhouse project goes a long way to achieving these objectives."
November 13, 2023
Latest News & Announcements