Criminology, psychology students showcase research, internships
During their junior year, students majoring in one of the behavioral sciences are required to complete an independent research project or an internship. On Sunday, 18 juniors and seniors – all of whom are majoring or double majoring in Criminology and Psychology – presented the results of their work at the 9th Behavioral Sciences Showcase at The Chandelier in downtown Tiffin.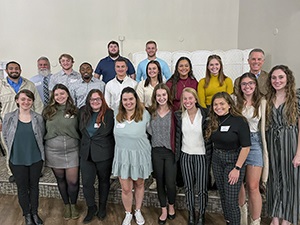 The annual showcase was a celebration of the students' accomplishments. In addition to the student presenters and Psychology and Criminology faculty, a number of special guests from the community participated in the event, including Veronica Gosche and Jami Opp from Oriana House, Molly Depew from Tiffin City Schools and Ryan Weaver from Terra State Community College.
Heidelberg was represented by Carole Thomas and Beth Koop (HYPE Career Ready®), Ashley Helmstetter (Alumni Engagement & HYPE), President Rob Huntington and his wife, Susan McCafferty, Provost Bryan Smith and Trustee Beth Long-Higgins.
Highlighting the event was a panel of recent grads, who spoke about where they are now in their professional journeys, how current students can follow their paths and advice and information about graduate school and their current jobs. The panel included:
•    Katelyn Frye '14, a Ph.D. candidate in Adult Development and Aging at The University of Akron
•    Jared Yoe '18, a police officer in Lakewood and former Border Patrol officer
•    Alexa Hawk '21, a second-year student in the Clinical Psychology doctoral program at Indiana University of Pennsylvania
Congratulations to this year's student presenters:
•    Olivia Bean – Integrate Athens (developmental disabilities)  
•    Hanna Blasinsky – Seneca County Youth Center 
•    Raven Brant – Seneca County Sheriff's Office  
•    Jarin Curtis – Seneca County Drug Task Force  
•    Memphis Cutshall – Seneca County Drug Task Force   
•    Jordan Day – End Violent Encounters (domestic violence) 
•    Caitlin Dems – Seneca County Youth Center 
•    Brianna Farrell – Fort Wayne Rescue Mission 
•    Katelyn Gluck – Patchworks House (supervised visitations)  
•    Megan Hamilton – Independent Study: Effectiveness of Support Groups for Cancer Patients
•    Lili Helms – Court-Appointed Special Advocate  
•    Braeden Kahl – City of Montague Police Department 
•    Jacqueline Kaskel – Juvenile Probation  
•    Madison Leiser – Juvenile Probation  
•    Gabriel Martinez – Crosswaeh (community-based corrections center)
•    Adam Medeiros – Seneca County Sheriff's Office   
•    Amanda Scarbeary – SMYL: Impact Youth Center 
•    Morgan Sweat – Richland County Sheriff's Office
November 14, 2022
Latest News & Announcements