Secret Service simulation puts wrestlers through the paces
President Trizzle – a.k.a. 'Berg Head Wrestling Coach Tony Patrizi – had quite a workout when the U.S. Secret Service paid a visit to the team's practice on Nov. 16.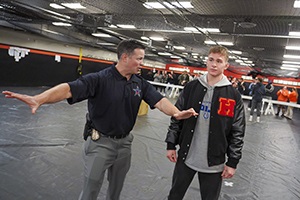 Senior Special Agent Jason Grahn, who visited campus earlier this semester for a recruiting event, put the wrestling team through a simulation as protective duty for President Trizzle, who was "stumping" on the campaign trail in the wrestling room at Hoernemann Stadium. 
In small groups, the wrestlers worked with Jason and colleagues Adam Daniels, Resident Agent in Charge of the Toledo Office and Deane Tirro, retired Assistant Special Agent in Charge at the Detroit Field Office, to walk through a simulation to demonstrate what happens at a crowded event when the U.S. Secret Service is tasked with protecting a dignitary.
"My main motivation was to give my guys the opportunity to do something totally different that they wouldn't have had the opportunity to do otherwise, especially for the students interested in this field," Tony said.
In the line of duty, U.S. Secret Service agents are tasked with placing the needs of others ahead of their own. "For us, that's the No. 1 thing we look for in recruiting … someone who's looking to be a great teammate and put others' needs first," Tony said.
The event really cemented the team's philosophy of taking care of the people around you. "If you do that, there will always be someone to take care of you," he said. "So it worked out very well."
Prior to the simulation, Jason had an opportunity to talk to the team about the career path of a U.S. Secret Service Special Agent and a Uniformed Division Officer. He walked them through the training and job qualifications, eligibility, job benefits, conditions of employment and other opportunities. Tony added that this was especially valuable to several wrestlers who have expressed interest in a career in law enforcement.
It was a fun experience for all involved, especially freshman wrestler Owen Frizzell, who is majoring in criminology. "It was an awesome experience that I'm very thankful I got the opportunity to participate in," said Owen, who added that his favorite part was working the simulated rope line during which President Trizzle was shaking hands with a boisterous "crowd." 
The experience also solidified for Owen his decision to pursue government law enforcement. "It was interesting to see how everyone worked together in a situation that may have made them uncomfortable," he said. 
Before the event had concluded, all of the wrestlers had an opportunity to be part of President Trizzle's security detail. Lots of others volunteered to serve as members of the crowd. The entire event truly was a team effort, Tony said.
"I really appreciate all the volunteers who made the event happen," he said, noting that Campus Security helped with set up, and criminology majors, student-athletes from other teams and Athletic Training Professor Dr. Jena Suffel also volunteered. 
Giving his wrestlers direct access to the actual job added to the value of their 'Berg experience, Tony said. "When you come here, not only are you going to wrestle, but you're going to get these great additional opportunities too," he concluded.
November 30, 2022
Latest News & Announcements