Cop-turned-combat pilot 'FlyGirl' to be '20 PALS speaker
Please note that this event has been moved to September 30, 2021.
Entering its second decade, The Patricia Adams Lecture Series at Heidelberg University is pleased to announce that Vernice "FlyGirl" Armour, America's first African American female combat pilot, will be the keynote speaker for this fall's event.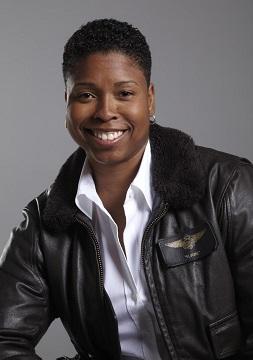 FlyGirl propelled herself from beat cop to combat pilot in a record-breaking three years. She will bring her breakthrough mentality and "get gutsy" mindset to Heidelberg on Wednesday, Oct. 21, 2020. During her visit to campus, FlyGirl will participate in several sessions for Heidelberg students and special guests. She will present her keynote address during the PALS dinner later that evening. More information about the 2020 PALS event will be forthcoming later this year.
A Tennessee native and graduate of Middle Tennessee State University, FlyGirl holds two honorary doctorates and was a Diversity Liaison Officer to the Pentagon for Headquarters Marine Corps. She has received numerous awards as a pioneering pilot and for her commanding role in Science, Technology, Engineering and Mathematics. She has been featured on CNN, MSNBC, The View, Fox News, Oprah Winfrey and other programs.
She was the Marine Corps' first African American female pilot, first African American woman on the Nashville Police Department's motorcycle squad, a Camp Pendleton Female Athlete of the Year and two-time titleholder in their Strongest Warrior Competition, and a running back for the women's pro football team, the San Diego "Sunfire."
FlyGirl's first signature book, "Zero to Breakthrough," was released in 2011. She is married and resides in the Atlanta area.
"FlyGirl" is posting a series of videos on her personal website, ConqueringCOVIDChaos.com, to keep us positive and motivated through these challenging times. She has graciously shared them with the Heidelberg community.
WELCOME VIDEO: https://player.vimeo.com/video/412705360
VIDEO #1: https://player.vimeo.com/video/412571311
VIDEO #2: https://player.vimeo.com/video/415594236
ABOUT THE PATRICIA ADAMS LECTURE SERIES
In 2010, Heidelberg launched The Patricia Adams Lecture Series, created and funded by The John and Patricia Adams Foundation. Its aim is to present exceptional female leaders from a broad spectrum of professional backgrounds as a way to expose all Heidelberg students to women who have made a significant impact in their careers and communities. The series is named to honor Pat Adams' loyalty to and passion for Heidelberg, her philanthropic spirit, and her desire to leave a legacy to the university that has meant so much to both her and John, a '58 Heidelberg alumnus and trustee emeritus.
In its first 10 years, PALS has fulfilled its mission by hosting women speakers representing the military, broadcasting, entrepreneurs, law, business, entertainment, science, and education.
May 14, 2020
Latest News & Announcements