Commencement '23: New grads step into hopeful futures
On a sun-soaked Mother's Day morning, the Class of '23 stepped out of their Heidelberg home and into a world of the unknown but also a world full of promise. Commencement 2023 – Heidelberg's 170th – was a glorious day to celebrate the achievements of 300 undergraduate and graduate students who now can call themselves 'Berg alumni.
A lively and proud crowd of family and friends celebrated with them in Hoernemann Stadium on Sunday, amid all of the pomp and circumstance that graduation brings – plus a breeze that stirred flags, mortar boards, plants and programs.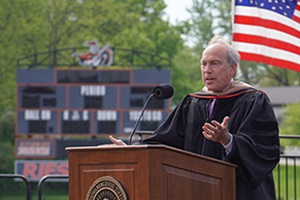 Heidelberg alumnus Marc Stefanski '76 returned to his alma mater to deliver the keynote address, "Random Thoughts and a Set of Values." He peppered his remarks with humorous stories with some serious advice for the graduates, based on a theme from the movie "Amsterdam."
"Because the dream repeats itself, since it forgets itself. That's why it repeats itself."
The message: Don't keep repeating the same mistakes.
"My challenge to you is to break the cycle," said Marc, who is the chairman and CEO of Third Federal Savings and Loan Association of Cleveland. "The future is in your hands, not mine."
Reflecting on his set of values which he "stole from my parents" – including love, trust, a commitment to excellence, treating everyone with respect and having fun – he encouraged the graduates to "do something more for someone else."
"Honestly, that's what it's all about. Whether it's a friend, a son or daughter or a business associate, you'll be amazed at what kind of feeling that gives you."
Also delivering remarks were MBA grad Gavin Buurma, also Class of '22, representing graduate students, and Jeanna Fullom, representing the undergrads.
Commencement by the numbers
In all, 228 undergrads received Bachelor of Arts, Bachelor of Science, Bachelor of Music and Bachelor of Science in Nursing degrees. A total of 72 graduate students received their master's degrees in Business Administration, Counseling and Athletic Training – including the first two graduates from the latter. They join more than 15,000 living alumni worldwide primed to support the newest alumni.
A team effort
During major milestone events like Commencement, the entire 'Berg team comes together to pull it off.
Special music was provided by the Heidelberg University Symphonic Band, under the direction of Professor Rod Miller, and the Concert Choir and student director Jayce Porter '24. Graduating senior Celia DeTray led the singing of "The National Anthem" and Zaria Keys '24 performed the anthem "Lift Every Voice and Sing."
Graduating senior Audrey Kaufman provided the invocation. Board of Trustees Chair Kathleen Geier '78 assisted President Rob Huntington in presenting honorary degrees to United Church of Christ executive Rev. Dr. Karen Georgia Thompson, who delivered a stirring sermon at Baccalaureate on Saturday, and to Marc Stefanski.
May 14, 2023
Latest News & Announcements